RFC Custom Wire Form Products
From the beginning, RFC Wire Forms specialized in the fabrication of high-quality wire products. Over the past 75 years, RFC Wire Forms has become a premier supplier of custom-built, USA-manufactured wire fan guards and motor mounts, retail displays, beverage displays, publications displays, custom and OEM Products and more. We are a comprehensive manufacturer of high-quality, cost-effective wire forming solutions and services including standard and custom-made wire forms, 3D wire bending solutions, prototyping services and high-volume manufacturing. As a proud USA-based manufacturer, RFC Wire Forms is your single-source solution for roll-out projects, maximum quality and rapid delivery.
We offer a variety of standard and custom fan guards and motor mounts that are used on many of the industry leaders products in the HVAC industry. Our fan guards and motor mounts are offered in a variety of sizes and configurations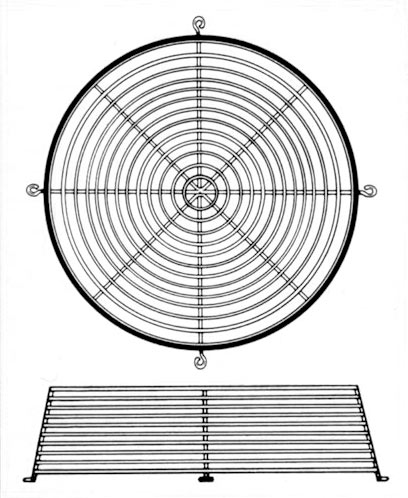 including flat, straight and tapered designs. We also offer Stainless Steel, Galvanized Steel and Cold Roll Steel guards with many different finish options.

Find POP displays based on your needs with our complete lineup of custom point-of-purchase display and retail wire shelving options including premium displays, wire displays, corrugated displays, dump bins and more all in a variety of assorted materials.

Choose between a wide array of POP displays used to merchandise beverages, groceries, auto parts, golf accessories, apparel and everything in between. Our comprehensive retail display solutions include free standing floor displays, spinning displays, countertop wire display racks, wine racks, corrugated displays and more.

RFC Wire Forms is recognized as an industry leader in commercial magazine and newspaper racks. We manufacture our durable publication displays for indoor and outdoor applications. Browse our premade solutions to find the size and color combination to meet your needs or get in touch with our experts and start creating a solution best for you.

Create custom wire forms that fit the exact specifications of your design with our state-of-the-art, computer-controlled 3D wire benders. Our expert design team can help you develop a prototype to meet your requirements for full-scale roll-out projects by utilizing a wide assortment of materials. (Including Stainless Steel, Galvanized, Steel Wire and many different sizes) No matter your need, we have high-quality and cost-effective solutions to your wire forming.

Additional Services
RFC has a complete lineup of customizable sign plates, holders, decals and silk-screening services to enhance your standard wire display racks.

We offer an import program for your high-volume, price sensitive projects as part of our extensive services. Please call us today to get started.

Industries Served
Prominent names in the heating, ventilation, refrigeration and air conditioning industries trust RFC to meet their needs. Enjoy quick turnaround times, custom products, high-volume output and supply assurance for your projects with our strategic import partner network.

RFC Wire Forms Inc. has produced specialized, high-quality wire products for over 75 years. Contact RFC today for a quote or to receive more information about our custom wire products and services.