Publication Displays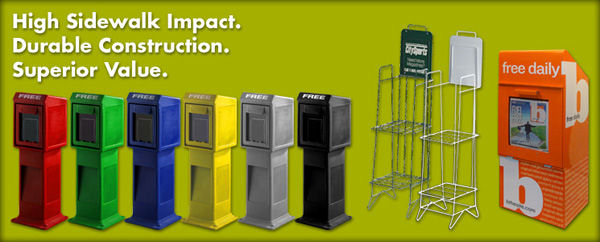 High Sidewalk Impact. Durable Construction. Superior Value.
RFC Wire Forms is recognized as one of the top brands in publication racks throughout North America. Our magazine and newspaper racks are known for their quality construction, durability and high-impact appeal. RFC offers floor standing display racks and counter racks in 5 categories and sizes.
Typical publication sizes:
Magazine 8-1/2" X 11"
Tabloid 11-1/2" X 15"
Broadsheet 16" X 12"
Quarterfold 8" X 11 1/2"
Digest 5-1/2" X 7"
Established in 1946, RFC Wire Forms was founded by young engineers Frank Renfro and John Franklin with a mission to provide high quality wire form products for Southern California customers. Originally their ambitions gained them a reputation for building sturdy wire cages for large industrial and ranching operations. However, their innovative design and precision fabrication techniques helped grow the firm and product line into a diverse line of metal, wood, and plastic products that today serves a variety of industries worldwide.