Fan Guard & Motor Mounts
Fan guards, also known as finger guards or fan covers, are physical barriers that provide protection from accidental contact with the spinning blades of a fan. HVAC fan guards are often used in conjunction with HVAC motor mounts, which are used to mount or hang the fan motor. Industrial fan guards are typically made of steel wire and are designed to allow maximum air flow for effective cooling, heating and ventilation. Properly designed HVAC fan guards can also reduce fan noise and increase energy efficiency.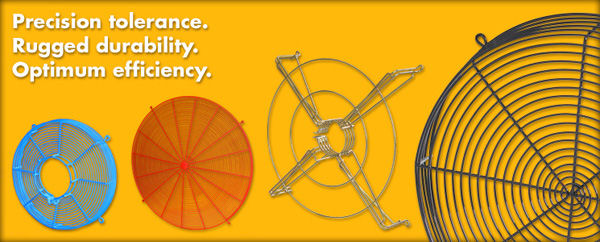 Industrial fan guards are welded into a range of configurations and sizes and may also be coated with a variety of finishes including anodizing, plating and powder coating to provide protection from wear and corrosion. Polyester or urethane are also commonly used to provide UV resistance for outdoor fan guard applications.

RFC Wire Forms is a fan guard manufacturer offering HVAC fan guards that provide low airflow resistance. Our fan guards and HVAC motor mounts are manufactured in compliance with OSHA safety standards and are used for a wide range of commercial and industrial applications, including:
Cooling towers
Heat exchangers
Duct fans
Exhaust fans
Refrigeration units
Air conditioners
Computers and electronic devices
And more
Standard and Custom HVAC Fan Guards and Motor Mounts
Our industrial fan guards and HVAC motor mounts provide the precision tolerance, rugged durability and optimum efficiency you need for your HVAC/R applications. We begin fabrication with the highest quality domestic wire in either bright basic or stainless steel. Assembly is performed by resistance and arc welding, then thoroughly inspected and tested for good adhesion and maximum strength. The finished product is protected from corrosion by zinc plating, gold chromate treatment, chrome plating, powder coating and UV-resistant polyester or urethane.

Choose from our wide range of standard fan guards and motor mounts or have us custom manufacture HVAC fan guards to your exact specifications. Contact us to request a quote or for additional information regarding our industrial fan guards.
Industrial Fan Guard Sizes and Configurations
RFC specializes in custom specification engineering, short run orders, UL and OSHA compliance standards. Our HVAC motor mounts are available in a wide variety of configurations and sizes, including:
Flat Fan Guard
Straight Sided Fan Guard
Tapered Sided Fan Guard
Domed Fan Guard
3 and 4 Legged Motor Mount
Wire Fan Guard/Fan Motor Mount Combinations
Contact Us for Stock and Custom-Built HVAC Fan Guards and Motor Mounts
RFC is a leading fan guard manufacturer and supplier providing stock and custom-built wire fan guards and fan motor mounts for the HVAC/R industry. View our
catalog
for a complete listing of our standard HVAC fan guards and HVAC motor mounts.
If you don't see the product you need in stock,
request a quote
for custom HVAC fan guards or
contact RFC
to receive more information about our industrial fan guards and fan motor mounts.